Show in the Sky this Friday the 13th
Friday, August 13, 2010
This would be the best time sana to go to Seven Suites Hotel in Antipolo, the only Hotel Observatory in the Philippines not only because of the party Magic 89.1 will be hosting there but also for the Perseids meteor shower and
Triple Conjunction with the Moon
.
Thanks to Aia Solis and Rye for the info. :)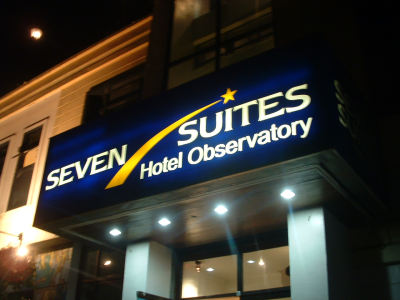 According to
SeaSky
,
The Perseids is one of the best meteor showers to observe, producing up to 60 meteors per hour at their peak. This year's shower should peak on the night of August 12 and the morning of the 13th, but you may be able to see some meteors any time from July 23 - August 22. The radiant point for this shower will be in the constellation

Perseus

. The thin, crescent moon will be out of the way early, setting the stage for a potentially spectacular show. For best viewing, look to the northeast after .
Not only that, there will also be a Triple Conjunction with the Moon, where Mars, Venus, and Jupiter will be closest to a Crescent Moon.
But this may not be just an astronomical event, according to some articles, this might also be related to:
The Birth of Jesus
Terrorism Threat
Watchmen
Prophecies
Illuminati
Which I find very interesting but funny. Here's an excerpt from
AboveTopSecret
:
Others believe there may be illuminati symbolism is movies and other places that may point to important events that may occur around the time of a Triple or Quadruple Conjunction like is to occur on Friday August 13, 2010. Some of these Astrological symbols include many crop circles designs, the Comedian Smiley Face on the movie "Watchmen", and the smile of the Cheshire Cat in "Alice in Wonderland", the Walmart Winking Smiley, the character "the Deacon" in the movie "Waterworld", "The Simpons" (Where Lisa Simpson sees smiley faces during a dream sequence and then a nuclear mushroom cloud) and the symbols on the Mayan Codex depicted in the Denver Airport Mural showing the burning forest/city and the rise/birth of the Antichrist (undead/reborn Native American women with open white eyes, halo, and holding the baby.
Here are other related posts:
*
Watchmen Smiley and Triple Conjunction August 13 2010
*
Terrorism Threat and Triple Conjunction: August 13, 2010
*
Triple Conjunction and Crescent Moon: August 13, 2010
*
Prophecy in the Making
So yeah, I guess we'll just see what happens. :) But to those who are actually worried, find your rest in this:
"I am the Alpha and the Omega," says the Lord God, "who is and who was and who is to come, the Almighty." - Revelation 1:8